Our advantage
Currently there are 72 member states in the world: it is the world's largest and earliest project management international organization.

With 50 international certification bodies: provide the world's highest level and popular project certification applications.

With more than 50 national-level youth leagues: provide a platform for young people's international exchanges and development.

Adopt the latest Odoo digital operating platform: provide real-time online services to global customers.
Superior ability
---
Complete 102 strategic alliance universities: provide an operating platform with continuous resources.

Cultivate more than 600 seed lectures: Leading cross-field resource integration.

Cultivate more than 10,000 international project managers: agencies at all levels throughout the country continue to optimize their development.

TPMA 全國 17 個專業研究發展中心:促進產官學研合作發展。

TPMA 授權全國 18 個營運中心:擴大營運與服務。
Previous
Next
100+
Strategic partners of universities and colleges And offer license courses
600+
The elite of academia and industry
1000+
Administered enterprise
(Including Taiwan Science and Industry Park Science and Industry Association/Neihu/Tainan Science Park/Republic of China Agricultural Association/Republic of China National Fisheries Association/Taiwan Agricultural Cooperative Association/Taiwan PetroChina Co., Ltd. Refining Division/Republic of China Servicemen's Friends Association /Taiwan Province Chamber of Commerce)
10000+
International project manager training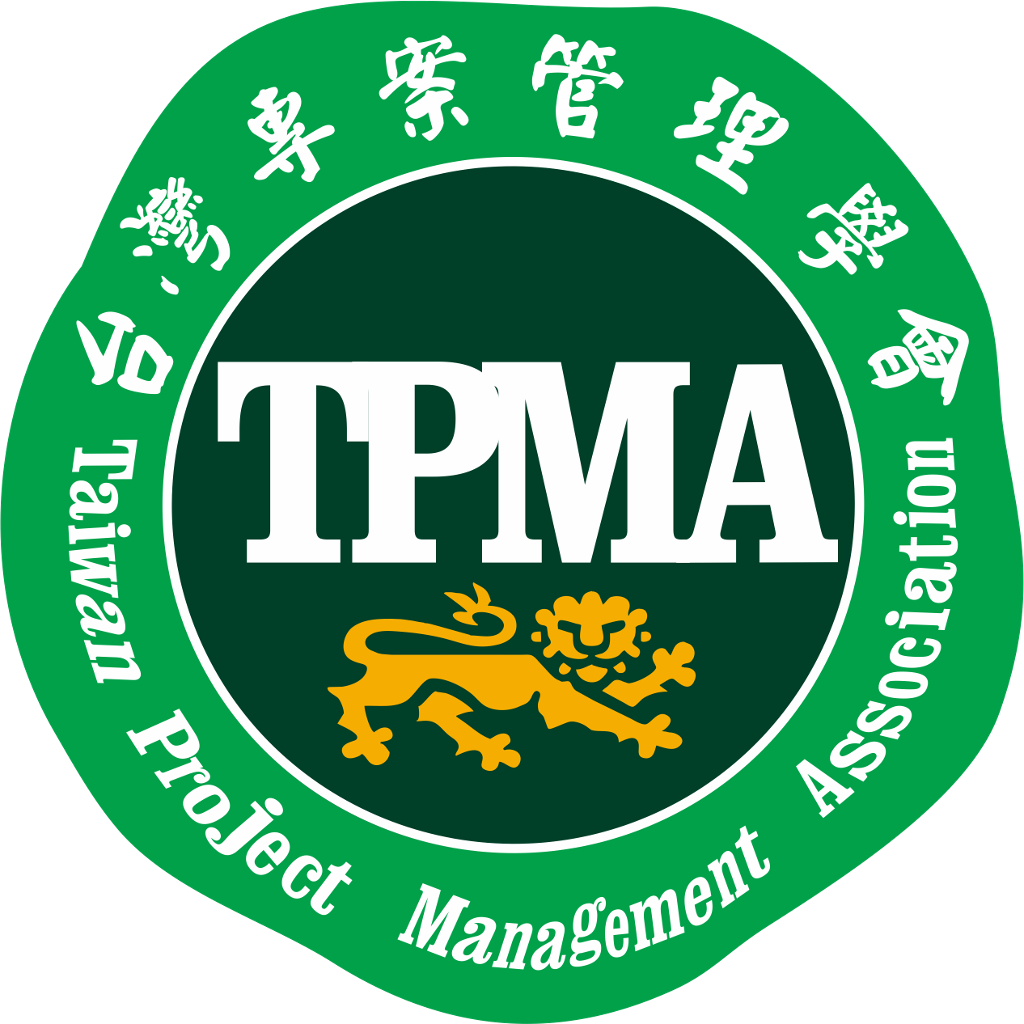 Introduction to TPMA
Taiwan Project Management Association (TPMA, Taiwan Project Management Association) is a non-profit professional organization founded in June 2002 (Ministry of Internal Affairs approved name: Tai Nei She Zi No. 0910023763), and it is also the International Project Management Association (International Project Management Association). Management Association (IPMA) is a representative of Taiwan's member state organizations. The purpose of the establishment is to improve the project management ability and management quality of domestic government units at all levels and the industry, and to develop the knowledge system and practical operation experience of project and large-scale project management. And regularly provide project and large-scale project management education and training courses, as well as industrial project management consulting and system construction services.
  The Taiwan Project Management Association (TPMA) is one of the very few professional societies that have joined an international organization in the name of a representative of a member state, and it is the first time to apply for approval to become a full member. The results obtained. Since then, the Institute has established its position as a pioneer in project management in Taiwan. At present, we are actively promoting the certification of project management licenses for business, academia, schools, and members of the public. Up to now, the Taiwan Project Management Association has assisted a number of private organizations to build project management capabilities, established strategic partnerships with more than 100 universities and colleges, and issued license courses. Lake Science Park, Tainan Science Park Industry Association, Republic of China Agricultural Association, Republic of China National Fisheries Association, Taiwan Agricultural Cooperative Association, Taiwan Province Federation of Commerce, Taiwan Petroleum Corporation Refining Division, Republic of China Military Friendship Association, and The strategic alliances of the industrial associations of counties and cities provide more than 10,000 natural persons and legal entities to obtain A, B, C, and D four-level international project management certification and implement the application and promotion of project management.
  Taiwan Project Management Association (TPMA) In order to enhance the international competitiveness of enterprises and introduce the knowledge system of international project management into the country, firstly, the knowledge system of project management can be deeply cultivated in university education, and then it has entered into a strategic alliance with universities and colleges and provided preferential treatment. The students of the Strategic Alliance University receive free project management knowledge system training to implement the purpose of the Taiwan Project Management Society to enhance the competitiveness of the Chinese people.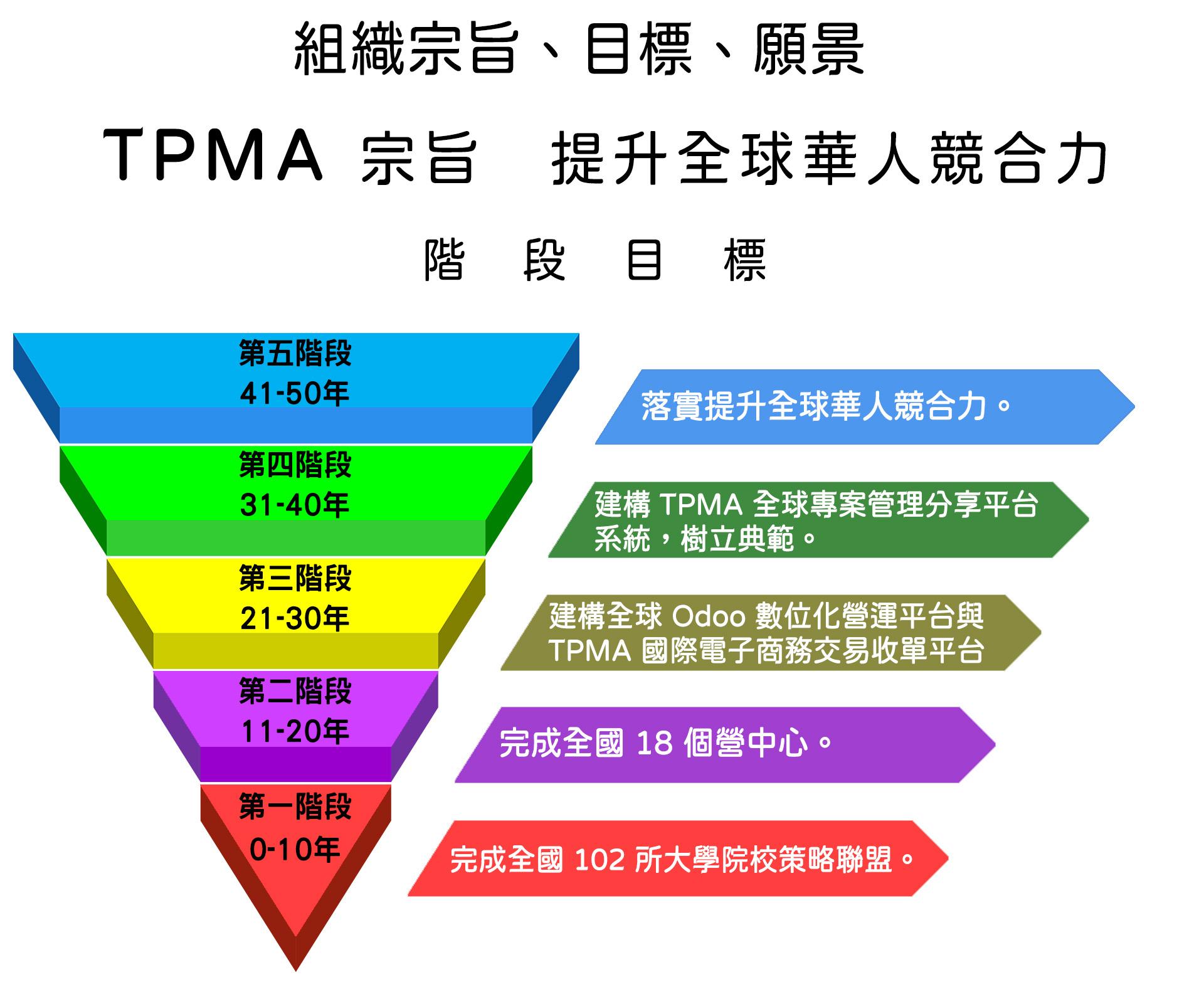 n 透過 IPMA 國際專案管理訓練課程,培養出具備解決問題和創造機會的專案管理人才,並且秉承 TPMA 的願景,結合 IPMA 的國際平台和全球同步接軌。
n 唯有藉由堅持不懈的持續學習與訓練來提昇個人的專案管理能力及解決問題的能力。
n 我們相信每位學員皆有學習的潛力,透過完整的專案管理訓練,能夠成為人力資源重要的資產,來提昇個人與企業的競爭力,進而達成企業與個人的成長和雙贏。
n 我們承諾所有受過 IPMA 國際專案管理知識的學員,皆能透過本學會專業的訓練及認證制度下,讓各位學員在企業界能夠完成各項專案以及提昇解決問題的能力。
n IPMA 國際專案管理知識體系是我們基礎的範疇,是學會、學員與企業 三方互享之資源平台。
n 配合勞動部勞動力發展署辦理在職人員職能訓練教育,達成終身學習之目標。
n 開發符合社會需求課程,建立學員就業市場需求接軌的訓練機制。
n 與企業結盟,提昇師資及訓用合一,結合教授學術素養與實務經驗協同教學,達成訓練效果。
n 創造學以致用、學以就業,持續開拓學員就業技能。
n 多角化經營教學策略,滿足學員需求,開發多元化、多樣化教育類別,經營上更具競爭力