Our advantage
IPMA has 72 members in the world: it is the world largest and earliest project management international organization.

IPMA has 50 international certified organizations: provide the world highest level and popular project certification applications.

IPMA has more than 50 national-level youth leagues: provide a platform for young people international interchanges and development.

TPMA takes the latest Odoo digital operating platform: provide real-timing online services to global customers.

TPMA 成立柬埔寨服務處:擴大國際服務。
Superior ability
---
TPMA has 102 strategic alliance universities: provide an operating platform with continuous resources.

TPMA cultivated more than 600 seed lectures: Leading cross-field resource integration.

TPMA cultivated more than 10,000 international project managers: spread out at all levels throughout the country continue to optimize their development.

TPMA 全國 17 個專業研究發展中心:促進產官學研合作發展。

TPMA 授權全國 23 個營運中心:擴大營運與服務。

TPMA 榮獲「上市上櫃公司董事、監察人進修推行要點進修體系機構」

Previous
Next
100+
Strategic partners of universities and colleges And offer license courses
600+
The elite of academia and industry
1000+
Administered enterprise
(Including Taiwan Science and Industry Park Science and Industry Association/Neihu/Tainan Science Park/Republic of China Agricultural Association/Republic of China National Fisheries Association/Taiwan Agricultural Cooperative Association/Taiwan PetroChina Co., Ltd. Refining Division/Republic of China Servicemen's Friends Association /Taiwan Province Chamber of Commerce)
10000+
International project manager training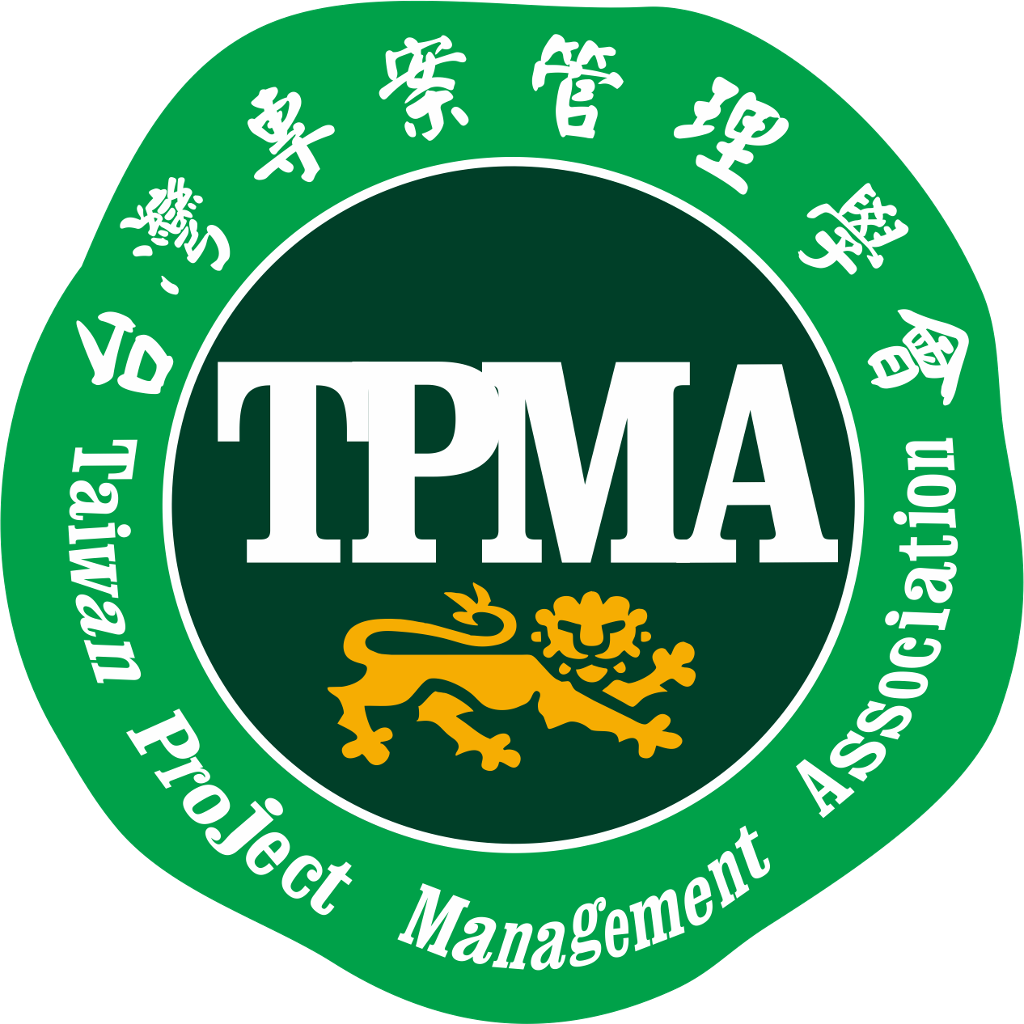 Introduction to TPMA
Taiwan Project Management Association (TPMA, Taiwan Project Management Association) is a non-profit organization, founded in June 2002 (Ministry of Internal Affairs approved name: Tai Nei She Zi No. 0910023763), and TPMA is also the International Project Management Association (International Project Management Association) branch office in Taiwan. Management Association (IPMA) is a representative of Taiwan's member state organizations. The purpose of the establishment is to improve the project management ability and management quality of domestic government units at all levels and the industry, and to develop the knowledge system and practical operation experience of project and large-scale project management. And regularly provide project and large-scale project management education and training courses, as well as industrial project management consulting and system construction services.
  The Taiwan Project Management Association (TPMA) is one of the very few professional societies that have joined an international organization in the name of a representative of a member state, and it is the first time to apply for approval to become a full member. The results obtained. Since then, the Institute has established its position as a pioneer in project management in Taiwan. At present, we are actively promoting the certification of project management licenses for business, academia, schools, and members of the public. Up to now, the Taiwan Project Management Association has assisted a number of private organizations to build project management capabilities, established strategic partnerships with more than 100 universities and colleges, and issued license courses. Lake Science Park, Tainan Science Park Industry Association, Republic of China Agricultural Association, Republic of China National Fisheries Association, Taiwan Agricultural Cooperative Association, Taiwan Province Federation of Commerce, Taiwan Petroleum Corporation Refining Division, Republic of China Military Friendship Association, and The strategic alliances of the industrial associations of counties and cities provide more than 10,000 natural persons and legal entities to obtain A, B, C, and D four-level international project management certification and implement the application and promotion of project management.
  Taiwan Project Management Association (TPMA) In order to enhance the international competitiveness of enterprises and introduce the knowledge system of international project management into the country, firstly, the knowledge system of project management can be deeply cultivated in university education, and then it has entered into a strategic alliance with universities and colleges and provided preferential treatment. The students of the Strategic Alliance University receive free project management knowledge system training to implement the purpose of the Taiwan Project Management Society to enhance the competitiveness of the Chinese people.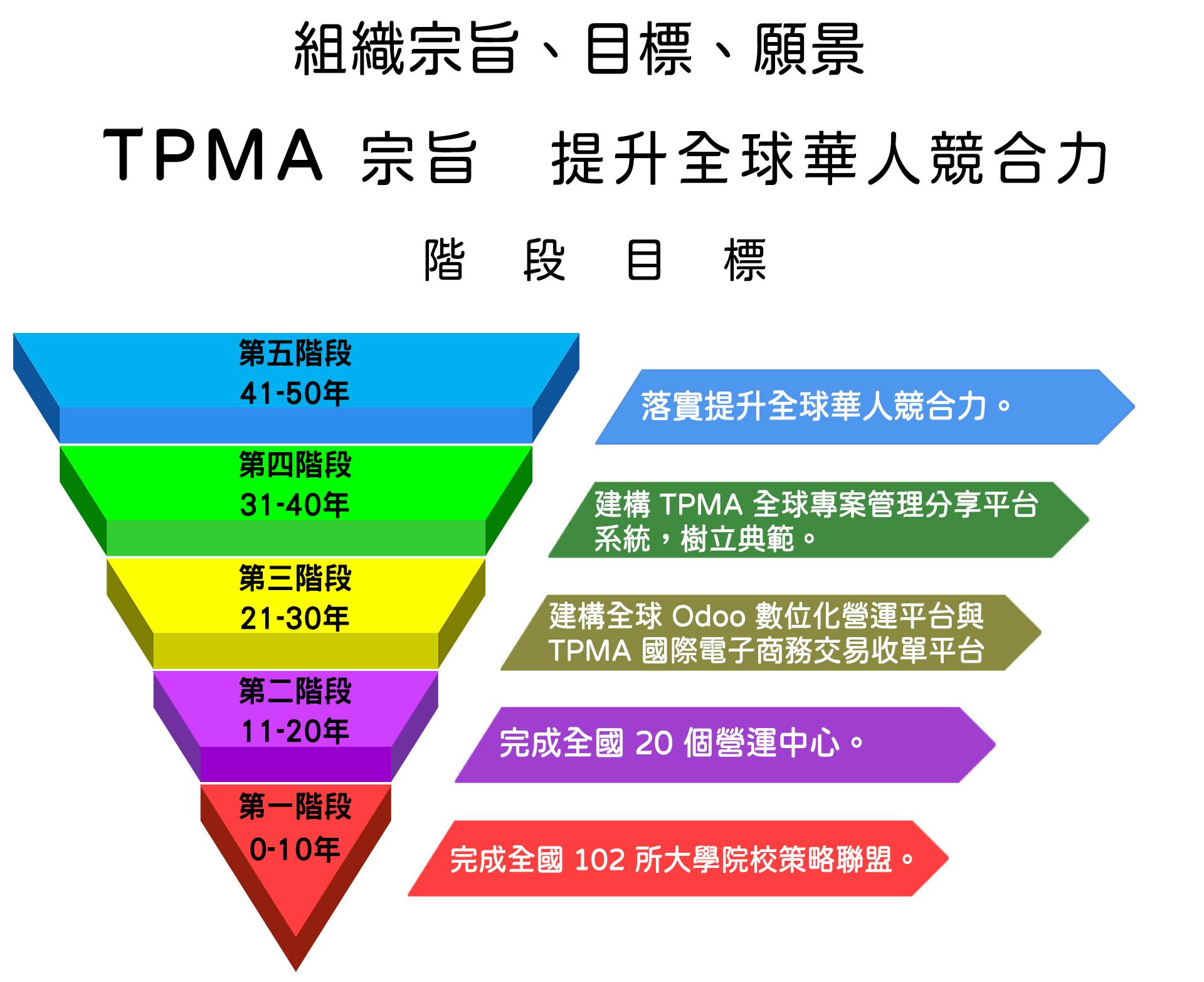 n Through the IPMA international project management training course, cultivate project management talents who are capable of solving problems and creating opportunities, and adhering to the vision of TPMA, combining IPMA's international platform and global synchronization.
n Only through persistent continuous learning and training can we improve our individual project management ability and problem-solving ability.
n We believe that every trainee has the potential to learn. Through complete project management training, they can become an important asset of human resources to enhance the competitiveness of individuals and enterprises, and then achieve the growth and win-win situation of enterprises and individuals.
n We promise that all students who have received IPMA international project management knowledge will be able to complete various projects and improve their problem-solving ability in the corporate world through the professional training and certification system of the society.
n IPMA international project management knowledge system is our basic category, and it is a resource platform shared by the society, students and enterprises.
n Cooperate with the Labor Force Development Agency of the Ministry of Labor to conduct functional training and education for in-service personnel to achieve the goal of lifelong learning.
n Develop courses that meet social needs, and establish a training mechanism that meets the needs of the job market for students.
n Form alliances with enterprises, improve the integration of teachers and training, and combine teaching with academic quality and practical experience to achieve training effects.
n Create learning to apply, learning to employment, and continue to develop students' employment skills.
n Diversified business teaching strategies to meet the needs of students, develop diversified and diversified education categories, and become more competitive in business